Bunnies seem to be in abundance this year. I do believe we have 3 times more bunnies this year than last year. Star is in "Dog heaven"! She can't wait to go for a walk every day. Once she spots a bunny, she attempts to dislocate my shoulder just so she can go on an all-out chase with the bunny.
Thank goodness, the mama tone "uh-uh" works on her. She will freeze in mid-air once that is uttered from my lips. And my shoulder is saved!
Today, we went out for a walk and saw the bunny you see below hoppin' across the lawn. Star attempts to rip my arm out of its socket when she hears "Uh-Uh" and she stops in mid stride to do my bidding. What a sweet obedient puppy.
Well…. Maybe not. For the entire walk, she keeps trying to turn me around and go back looking for that bunny. This girl is truly side-tracked. She can't take 2 steps without digging in her strong legs, stiffening up her neck to slip out of the collar and giving me a look of "I am not going a step further until I can get that rabbit!"
I know how she feels.
I get side-tracked like that too.
Don't you?
Here is an example:
You have the all-out intention to workout in the mornings…but sleep, beautiful, perfect, extra sleep is calling your name.
You have the all-out intention to meditate first thing in the morning…but rushing out the door takes precedence.
You have the all-out intention to stick to that meal plan…but gosh, its hot and you are tired and going through the drive-thru is so much easier.
We look at these and think that it's sleep, lack of organization or fatigue that keeps us side-tracked…but is it ?.?.
Yes, sleep is a major component to being healthy. In fact, if you want to read my thoughts on that, read this sleep article I wrote a while back.
Lack of Organization causes undue levels of stress. And as you know, stress is the #1 cause of dis-ease in our world. Anything we can do to reduce or eliminate stress is another major component to being healthy.
Fatigue is so common that it is becoming the norm. If you aren't fatigued, then you must not be working, trying or striving enough.  Or the prognosis is chronic fatigue and the best excuse ever is at your fingertips.
I'd prefer to take a deeper look and ask a very important question:
If my intention is to give myself the greatest care that I am capable of then why am I allowing myself to become sidetracked by small things that can be easily rectified?
Star can be pulled off course so easily with a bunny hoppin' across the trail. And if she gets loose and runs on her own, she could wind up nose to nose with a snake down in one of those gulley's that we have around here.
When we allow forces to side-track us, we find ourselves nose to nose with something that will continue to hold us back from living the life we desire in a body we love.
Ask yourself the question, what outside force am I allowing to sidetrack me away from the intention I have for my life? It's not the small things. It is something bigger and holds a deeper meaning in your life. It is not about fatigue, lack of organization or even sleep…those are the symptoms.
The question is…What are those the symptoms of?
After some deep soul searching, please leave a comment below. I would love to know how this lands for you.
Love & hugs,
Ashly
Sometimes we just need permission!
Women come to me for the answer of how to stop eating "bad" foods. How to stay on course and not get swept off track with the next round of emotional eating.
The big question is "Why do I give in? What gave these foods this much power over me?" "Why can't I eat 'perfectly'?"
That is what it feels like, isn't? The food is lording over you and telling you to eat or else….!!!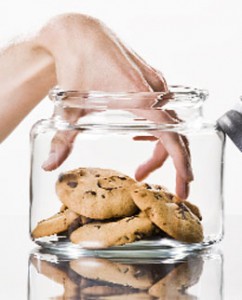 Think back to when you were a young child and you would ask your mama if you could have a cookie from the cookie jar and she said "no, not right now" what happens with your desire for that cookie? It increases doesn't it. The desire and the need are so great that you think you might die if you don't get it right now.
So what do you do as that young child. You find every possible way and reason to pass through the kitchen without mom hearing you, lifting the lid off the cookie jar as quietly as possible and then eat that cookie as fast as you can so no one sees; but then you want another and another because you didn't enjoy it like you thought you would. You need more to fulfill that desire you had for the cookie.
The same is true as we age into adult-hood. When we are told, we can't have something, or better yet, when a diet restricts or you hear repeatedly how "bad" a food is for you, YOU WANT MORE OF IT, don't you?
I have a solution for you that is so easy to say but difficult to do. But first I want to clarify something that is extremely important, especially if you will receive the suggestion I have regarding the power of the cookie jar.
Here it is: there is not a food on planet earth that is "bad", or a diet that is "perfect", food has no moral value, right? The food you are eating is not bad…it is just less nutrient dense than what you prefer or what the eating protocol you are on is asking for.  Let that sink in for a moment. No food is bad. Food is Food.
Secondly, food has no power except the power we give it. This power comes from lack of awareness for the body, for digestion and really a lack of consideration, compassion and care for one self.
Once you can wrap your brain around those two, now you are ready for the cookie jar solution.
Here it is: Give yourself permission.
Sounds too easy?
Hang with me for a minute….
If someone gave you permission to eat a whole jar of cookies, would you do it? NO, you wouldn't. Why? The resistance is taken away. When resistance is present, it creates a desire for the forbidden.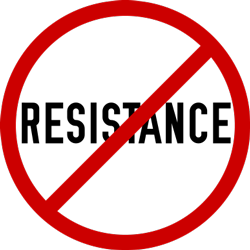 This resistance goes all the way back to the Garden of Eden. Adam and Eve didn't think about not being able to eat from the tree of knowledge, they were perfectly happy eating from the other trees that provided nourishment until it was pointed out, evilly I might add, that this tree was forbidden. It was like dangling a carrot in front of a donkey.  That is when resistance kicked in and they wanted more.
When told that getting a cookie from the cookie jar is forbidden…the desire for it becomes that much stronger.
Instead, give yourself permission to eat the "forbidden" food occasionally. The time frame is strictly up to you, based on your health needs and the needs of your body.
Next, use my favorite food permission quote, "I can have it anytime I want, I just don't want it right now."
This frees you to make a nourishing choice for mealtime or snack time instead of reacting to an emotional need in the moment. That sidesteps you away from your good intentions; the reaction to the emotional need in the moment. Whereas, when you give yourself permission to have it anytime you want, self-love and compassion included, the reaction to the emotion won't lead to food. In fact, if you allow that need to roll through you…just sit with the emotion for a moment, be present filled, the desire for the food has a better chance of passing you right by.
Now, wouldn't that be wonderful?
It is only a shift in your perception and belief about food. One, it isn't 'bad', it is just food. Two, simply give yourself permission AND/OR feel the emotion. Both will allow the moment to pass without partaking in an emotional binge or unaware eating.
If this philosophy resonates with you..check out my other blogs AND join us for Engage and Experience Freedom Group Coaching Program.