Hello Gorgeous!  Welcome!
Grab a cup of tea, curl your feet up and settle in. It is time to take a deep breath and solidify yourself in the moment and let's chit chat for a while.
But first…I have a confession to make.
For years I felt like I was all up in my head about my body and what I ate. Yes, that is right. I am NOT perfect with food or anything else for that matter.
Food and Body is all I ever thought about….Can you relate to that? It is painful, isn't it?
Everything I did and how I reacted to my experiences had to do with the way I felt about my body OR how "good" I was with food and how I chose to eat that day.
Does this resonate with you?
Do you get tired of the constant merry-go-round of emotions with food and your body? I sure did. It is exhausting….isn't it? Because of this, I decided enough was enough and created a way of living that results in FREEDOM from the merry-go-round of emotions, restriction,  and  punishment.
There is no need to live in that "mess" anymore.
Plain and Simple, I want to help you FREE yourself. Will you invite me in?
Linger over your cup of tea and I'll share my passion and a little pain with you.
This is my mission
My mission is to guide you in "re-shaping" your way of thinking so punishing exercise and restrictive dieting is a thing of the past; to teach you the tools and solidify the belief and that you CAN reach your natural desired weight in a loving and empowering way.
I have an infinite love for fitness and healthy living, and a deep desire to inspire others to live a fulfilling, joy-filled life.  But, even with this love for health, it wasn't always sunshine and roses for me. Through personal challenges with anxiety, weight and body image issues, I had to learn to face the fears these obstacles brought me; soon I found life was unfolding with unlimited possibilities.
I care deeply about your personal journey and want help you discover those unlimited possibilities for your own life; so you too can feel confident and empowered in your own body and fulfill the dreams you have set for your life.
Each month, I send out tips, education and information that will guide you in adopting a holistic eating and body love philosophy for lasting weight loss and incredible health.  Once you invite me into your world,  you get the information first!
Make sure you are in! It's free!
Stop the madness of dieting and punishing exercise
Instead…
Shape Shift
…..into the image of the person you want to become
by reshaping your attitudes and beliefs.
I can't wait to do life with you. Let's talk soon.
Ashly
---

What you might not know about me…
I married my hero, Robert. We began dating at age 18 and continue to have goofy fun as demonstrated in this picture.
At age 18 I had the privilege of seeing one of the most spectacular wonders, The Great Wall of China.
The most beautiful sound to my ears is the singing of The Lord Bless You and Keep You by the students at Abilene Christian University in Moody Coliseum.
I absolutely LOVE ice cream! YUM!
I want to travel the United States in an RV with my Robert.
Elephants are my favorite animal. They are family oriented, monogamous and a beautiful demonstration of family loyalty.
I love to sing…when I'm alone 🙂 I can belt it out with great enthusiasm and gusto!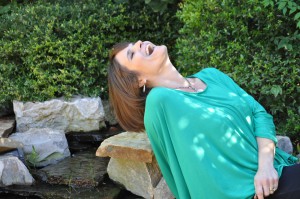 Ashly is amazing, positively reinforcing, always abreast of the newest dietary and working out information. She helps you to realize your own strength and then pushes you to carry that internal strength to the other aspects of your life. I cannot say enough great things about her.

-Jules F
Ashly's "official" Bio….
As founder and owner of Bio-Balance, Ashly began her Holistic Eating and Body Image coaching business in 1991, committed to inspiring others to live a fulfilling, joy-filled life. Bio-Balance was born out of Ashly's passion for fitness and healthy living seeded with her own personal challenges with anxiety, weight and body issues.
Ashly  is  a  Texan,  receiving  her  Bachelor  of  Science  degree  in Adult    Corporate    Fitness    from    Abilene    Christian    University, followed by training at the Institute for the Psychology of Eating, the world's leading school in Nutritional Psychology where she received   her   certification   as   an   Eating   Psychology   Coach. Through  IPE's  internationally  acclaimed  program,  she  learned powerful tools and protocols that enable her to work with weight issues, body image challenges, overeating, binge eating and a variety  of  nutrition  related  health  concerns  such  as  digestion, fatigue,   mood,   immunity   and   more.   In   addition,   Ashly   is   a nationally  recognized  ACE  certified  personal  fitness  trainer;  as well  as  a  recognized  IDEA  Elite  personal  fitness  trainer  with thousands of individual and corporate exercise programs to her credit.
As the author of Join Me in the E.N.D. Zone; Show Host with The Women's Information Network; Advisory Board Member with le femme FOCUS; instructional video developer; and active lifestyle within her own community, Ashly's message and speaking skills resonate with all ages and genders.
Ashly guides her clients to embracing a healthy lifestyle and empowering them to make nourishing choices about food, body and life which, in turn, inspires them to live according to their dreams and aspirations.