END the Diet Drama & Join Me in the E.N.D. Zone
---
"Weight is the screen that prevents us from looking within for the whisper of who we truly are." -Ashly Torian, Join me in the E.N.D. Zone
Shaping up can be more about reshaping mindset than hitting the gym. In my book "Join Me in the E.N.D. Zone", I'll introduce you to the E.N.D. Method and show you how fitness is as much about counting on living a purposeful life as it is about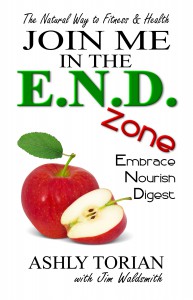 counting calories. Decide what you need your body to do, then reshape your attitudes and beliefs in the image of the person you want to become.
At any given time, over 100 million Americans are on diets. Most dieters typically make four to five attempts a year to lose weight. Of these habitual dieters, 85 percent are women. After years of helping hundreds of individuals lose weight, gain muscle and enjoy better lives, I've developed the E.N.D. Method, a sustainable, natural way to a healthier lifestyle. The E.N.D. Zone method is a mindset, a way to think about who you are, what you want to do, and the body you need to do it. The E.N.D. method is not a fad diet, but, by entering the E.N.D. Zone, you will lose the weight and it will stay off.
Offering practical advice and using real-life examples such as Jennifer, an aspiring ballerina who overcomes orthorexia, the excessive avoidance of foods perceived to be unhealthy; Randy, a late-night snacker; Rachel, a rape victim hiding her humiliation by maintaining an obese body; and Melinda, an exotic dancer and fast-food binger, I'll guide you, the reader, into the E.N.D. Zone. To achieve a healthy lifestyle and overcome common body issues, I advise you to:
Embrace the body you have. That's your starting point. From this moment forward, love the body you have to get the body you want.
Nourish it with wholesome foods and beneficial movement.
Digest the world around you in harmony and balance. Replace toxic thoughts with affirmative ones. Substitute fears and anxieties with truth and fact.
When you do these things thoughtfully and with awareness, you are in the E.N.D. Zone. If you are in an unhealthy relationship with food—perhaps you eat too much, or, conversely, too little—the E.N.D. Zone will help you find the balance that's best for optimizing your body's potential. If you tend to be sedentary, or you drive yourself in high-intensity, until-you-drop workouts, the E.N.D. Zone method can provide the particular kind of fitness equilibrium that satisfies your needs.
To make the E.N.D. Zone method achievable, Join me in the E.N.D. Zone includes practical hand-on applications, including a grocery shopping guide, recipes and exercise routines complete with step-by-step photos.
Join me in the E.N.D. Zone today. If you struggle with weight and related health issues, you need this book. Start living the life you were meant to live. Join Me in the END Zone is available from Amazon and offered through iBooks, Barnes & Noble Nook, and Amazon Kindle.