Armor-Up 2.0
---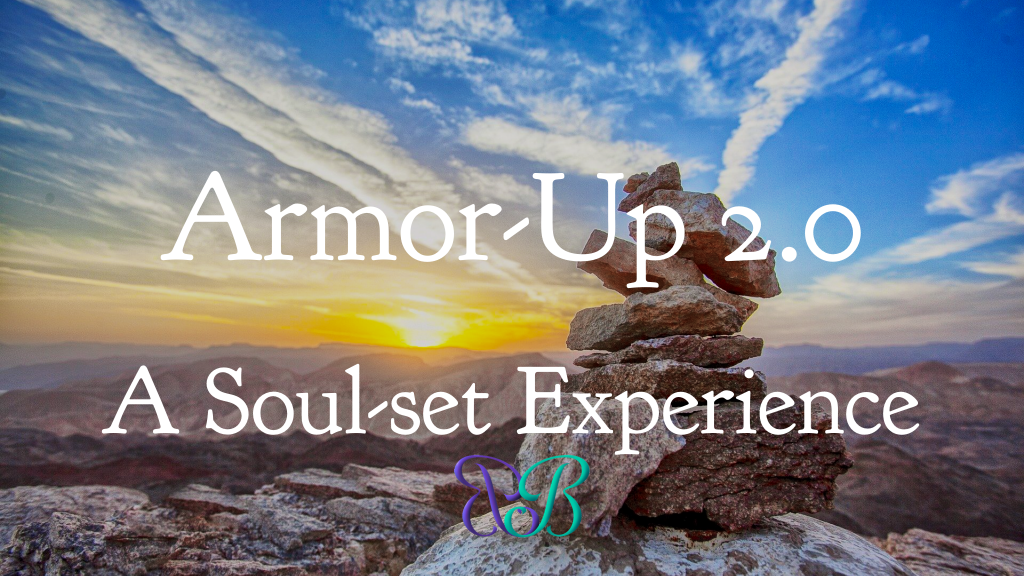 In the Soul-Set Experience, we get to the root of it, to the soul of what is really happening and holding you hostage. In Armor Up Boot Camp, we opened the "can", NOW we are taking a deeper dive, so you BECOME the Master of your Mind, Lead with your Heart (your intuitive wisdom), and find Balance in your emotional world.
The END results?
Armor-Up 2.0  gives you the space and opportunity to peel back the layers of insecurity and doubt, resolve them and come out refreshed and in alignment with the truth of WHO you are; with Peace, Harmony and Balance.
A little bit of my story:
I used to be afraid of speaking up for myself. I was filled with insecurity and doubt that I couldn't communicate in a way that I would be understood.

I felt like there was NEVER enough time to get everything done.

I was stressed to the max!

I Lived in fear that I wasn't enough and wouldn't be good enough to be successful.
Have you ever felt that way?
NOW, I am different. Now I speak up. I speak my truth in love, coming from the heart brain. I am by no means spot on and perfect every time. BUT the point is…I now see clearly, the important times when I need to stand up for me. Whether it is in relationships, my business and practice, or everyday living…I stand firm for me.
I now KNOW and BELIEVE that I have TIME for EVERYTHING I want to do. It is expanded! And I love it!
I am no longer STRESSED to the MAX. I am a master to the stress that shows up.
And finally, fear doesn't hold me hostage anymore.
---
Are you ready?
---
Are you ready to:
Feel like WHERE you are and WHO you are is ENOUGH?

Have the freedom to EXCEL and build your business in alignment with WHO you are?

Feel the Peace deep within so you are firmly planted and can build your success and life on a SOLID foundation?

To experience the harmony and simply BE in ebb and flow with every aspect of life?
If so, then Armor-Up 2.0 is your next step. Wahoo!!! This is so exciting and SO rewarding. You are gonna LOVE This!
Armor-Up 2.0 Includes:
Weekly LIVE Group Coaching call – they are recorded for your listening convenience. Content, Q & A and group coaching included. 24 total

Facebook Group support and interaction.

Live Facebook chat to start your week so we can address the Ah-Ha, Woohoo, and Oh Boys! Immediately.

Access to a monthly mediation and Home-Play materials all located on a Resource page for easy access with download capability.

All you receive during this 6-month program is yours to keep forever.
---
Armor-Up 2.0
A Soul-Set Experience balancing the mind, heart and emotions



If you just completed  ARMOR UP, your next step is here.
Join in Thursdays
@ 1:00 CST via ZOOM
See below for special pricing. 
---
Armor-Up 2.0 Concepts to be covered:
SLOW DOWN to the MAX
Slow is where your internal power resides.  Things happen in slow mode that wouldn't if the mode is fast.  This is the mode in which you receive downloads for creativity, insight, next step clarity and more. Here we will dive deeper into this idea of SLOW. This lays the foundation for Balance and Harmony to reside.
CLEAN UP YOUR THINKING ACCELERATED
This is your fine-tooth combing opportunity. There is always room to tweak the thinking mind. We know that when the mind is clear of negativity, things begin to move in favor of your desired life. Positivity is contagious and a joy to be around.
Operate in a BE-ing state of awareness to identify your way of thinking QUICKLY.
RESOLVE AND RELEASE THE BAGGAGE
This is a daily and continual process.  Clear out emotions that stunt your growth in life and in business. Moving forward is easier without yesterdays baggage. The way you show up in your life determines your trajectory. Show up clear of yesterday's baggage and your way forward will be light.
STAND FIRM FOR Y-O-U
This module will guide you in determining and solidifying what you Stand Firm in for the health of your body, soul and spirit. With practice, this will come easily AND BE who you are and lays the foundation for how you show up in your life and all that you want to create.
BE YOUR TRUTH
What energy do you show up with? In this module we will discover your Truth and how to walk forward in your life wrapped in this truth. Being your Truth is about authenticity, inner strength, confidence and belief in yourself. SO, you show up in Vibrant Health ready for all that flow into your life.
EXPAND TIME
Would you love to have more time in your day? You have all the time you need. It is a matter of perception and belief about TIME itself. To expand time, we transform the belief and the lie that there is a shortage of it. In this module you will find a way to get more done in less time and LIVE what you LOVE.
SO much FUN, JOY, & FREEDOM
Join us, won't you?
REGISTER NOW!